[ad_1]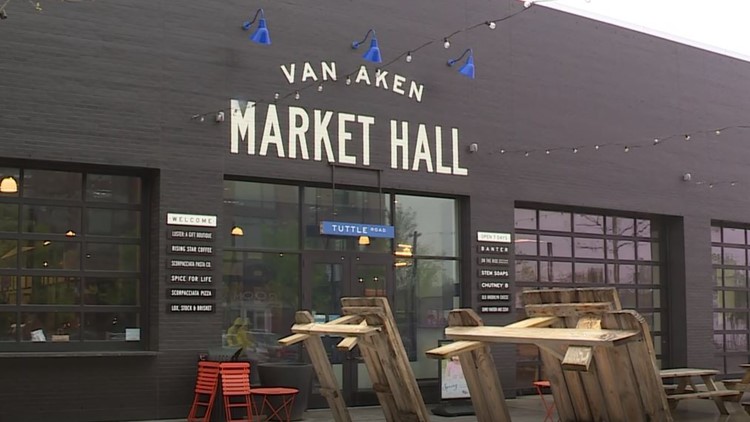 The space is just three years old, but it's brimming with up and coming business.
SHAKER HEIGHTS, Ohio — Since debuting three years ago in Shaker Heights, the Van Aken District has proven again and again to be the "anti-corporate, anti-lifestyle center," as Luke Palmisano of RMS Real Estate likes to say. The rightsized development prioritizes local and regional operators over familiar national brands, which are scattered throughout the attractive urban landscape.
While we love the whole of the district, we're particularly fond of the Market Hall, a 20,000-square-foot hub largely populated with food and drink options. As the years have passed, the hall continues to fill up with new stalls, new operators and new businesses. Initial vendors Banter, Brassica, On the Rise, Rising Star Coffee and Craft Collective have been joined by Chutney B, Domo Yakitori & Sushi, Old Brooklyn Cheese, Scorpacciata Pizza Co., Scorpacciata Pasta Co., and Lox, Stock and Brisket. Here's a rundown on three of them you'll want to check out.
Lox, Stock and Brisket opened last summer when owner Anthony Zappola relocated the popular eatery from its original home in University Heights. The restaurant almost singlehandedly kick-started the fried chicken sandwich craze thanks to the chef's dreamy Lincoln Park. Zappola isn't coasting on fried chicken, smoked brisket and house-cured lox sandwiches however; come later this summer, he will revive the Rice Shop, an Asian-fusion concept that he launched in Las Vegas, imported to the Ohio City Galley and relocated (and later shuttered) to University Heights.
Banter started out in Detroit Shoreway, where the business combined a lively bar, retail beer and wine section and a menu of poutine and sausage dishes. The shop was an instant hit, sparking an expansion that landed a satellite shop in the Market Hall of Van Aken. That original brick-and-mortar shop closed in 2020, but fortunately (for Eastsiders anyway), we still have this location, which makes the most authentic and delicious poutine dishes south of Quebec. Owner Matthew Stipe assures west-side fans that a search is on for a new full-service location on that side of town.
Billed as "the only brewery in Shaker Heights," Craft Collective is a 70-seat taproom that specializes in ciders, sours and meads. Many come from sister establishment BottleHouse Brewery, which is located in Cleveland Heights. Thanks to Van Aken District's liberal open container policy, beverages purchased here can be enjoyed throughout the development.
[ad_2]

Source link