[ad_1]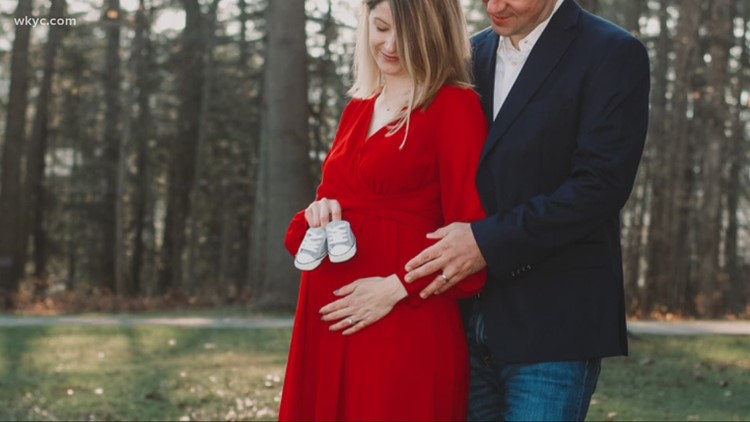 Despite encouraging data and support from the medical community, many pregnant women are still choosing not to get vaccinated.
CLEVELAND — Doctors from around Northeast Ohio are addressing concerns surrounding the COVID-19 vaccine during pregnancy.
It is a decision many women are struggling with today as additional studies continue regarding the vaccine and expecting mothers. 3News interviewed Doctors of maternal fetal medicine from University Hospitals, the Cleveland Clinic and MetroHealth, and all of the specialists recommend the vaccine for pregnant women.
Additionally, one of the largest reports on COVID-19 vaccination in pregnancy bolsters evidence that it is safe although the authors say more comprehensive research is needed. The preliminary results are based on reports from over 35,000 U.S. women who received either the Moderna or Pfizer shots while pregnant.
Their rates of miscarriage, premature births and other complications were comparable to those observed in published reports on pregnant women before the pandemic None of the women involved received Johnson & Johnson's one-shot vaccine, which became available after the study, and is now in limbo as U.S. authorities examine reports of blood clots in a handful of women.
Separately, the American Society for Reproductive Medicine endorsed vaccination in pregnancy, based on evidence it has been evaluating for over a year.
"Everyone, including pregnant women and those seeking to become pregnant, should get a COVID-19 vaccine," the society said in a statement. "The vaccines are safe and effective."
A society representative said the group has not evaluated the latest evidence on Johnson & Johnson's vaccine.
Cleveland Clinic pulmonologist and new mother Dr. Carli Lehr was faced with the tough decision of whether or not to get vaccinated when the shots became available.
"I got pregnant in June of last year, so right at the beginning of the pandemic," Lehr said.
By the time she hit her second trimester, talks of vaccines were making headlines, and also making headlines was the fact that COVID shots were not being tested on pregnant women. This raised questions about whether or not they are safe.
"I talked to everyone under the sun and asked what their opinions were," Lehr said.
That included Dr. Oluwatosin Goje, a Cleveland Clinic maternal fetal medicine Doctor. She recommends the vaccine to her patients.
"The vaccines we have right now for COVID are not live, so they cannot get activated or reactivated to harm you or your baby," Goje told us.
According to the CDC, symptomatic pregnant patients with COVID have increased hospitalization risks, increased ICU admissions and increased chance of intubation compared to non-pregnant women. Additionally, pregnancy causes changes to your respiratory and cardiovascular systems, which could increase infection.
University Hospitals maternal fetal medicine Dr. Ellie Ragsdale says recent studies regarding the vaccine are promising.
"Even more exciting [is that] new studies that are being done here in Cleveland shows antibodies and cord blood in the baby and moms are creating immunity and passing it to their babies," she explained.
Dr. Jennifer Bailit, maternal-fetal medicine doctor at MetroHealth, has seen the toll COVID has taken on pregnant mothers and babies.
"Essentially, [the new studies have] said there is no safety signal, meaning there [are] no hints that something goes bad with pregnant women that we didn't expect."
Despite the encouraging data, hundreds of thousands of pregnant women are still choosing not to get vaccinated for COVID, including Farah Nocero of Mayfield Heights. She is currently 37 weeks into her first pregnancy.
"I'm pro-vaccine with usually everything, [but] the concern was this was my first pregnancy," she said. "I want to wait. I don't want to risk anything. I'd rather just wait until my son is born."
As for Lehr – one of the first to be inoculated – she went into labor in February and gave birth to a healthy baby boy.
"I walked out of the hospital that day and I felt like it was the first good thing I did for me and my baby," Lehr said of getting vaccinated.
[ad_2]

Source link