Spoiler alert: This article contains spoilers for those who aren't up to date with Part 1 (Red Tide) of AHS: Double Feature.
Episode 4 of American Horror Story: Double Feature does what the franchise often does best: It introduces a backstory for a few beloved characters. Not only do viewers see Belle Noir's past and how she ends up taking the pills and thriving as an author, but it also shows how Austin comes to be.
Article continues below advertisement
In the present day, we know him as a self-assured musician. A few years ago, however, he wasn't so hot as a would-be drag queen. And, even though his drag show was lacking because of him, he had the potential. But while the episode shows Austin's past, it also has a cameo from a real-life drag queen known as Eureka O'Hara.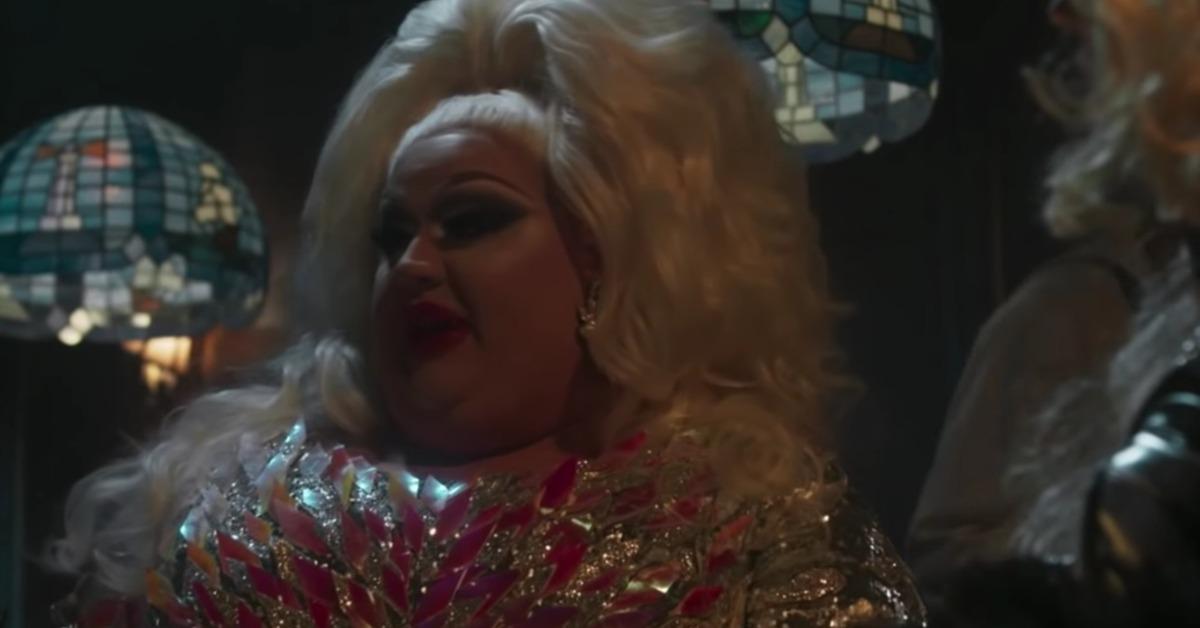 Article continues below advertisement
Fans of RuPaul's Drag Race know Eureka from multiple seasons, and they're a star in their own right now. In the AHS episode, Eureka plays a drag queen who's a bit of a bully to Austin and isn't wild about sharing the stage with an amateur.
Unfortunately, Eureka's character is short-lived (literally) since Austin kills the drag queens who wronged him. But the cameo has plenty of fans excited.
Evan Peters in drag was something 'AHS' fans had been waiting for.
Months ahead of the AHS: Double Feature premiere, fans somehow already knew about Evan Peters appearing in drag. And they were here for it. Most were ready to see what Ryan Murphy had in store for the AHS OG in drag and what kind of character he would play. We now know that Austin is supposed to be a struggling singer in his flashback rather than a full-time drag queen.
Article continues below advertisement
But his journey to taking the pill and getting back at those who wronged him includes trying and failing to be a drag star. We now know Austin isn't meant to go on to compete in and win RuPaul's Drag Race himself.
Because of that, we probably won't get to see him in drag again. But most AHS fans basically loved the backstory.
Article continues below advertisement
Eureka O'Hara plays a drag queen in 'American Horror Story' Season 10.
Eureka is known as a drag queen from more than one season of RuPaul's Drag Race and Season 6 of RuPaul's Drag Race All Stars. They were also in the HBO docuseries We're Here, about planning a small-town drag performance. Their role in AHS: Double Feature might have been one they were up against with other drag stars, though.
Aquaria, who won Season 10 of RuPaul's Drag Race, commented on one of Eureka's Instagram posts with, "I am screaming that you got the gig! I'm so happy for you!"
Although Eureka's character, Crystal Decanter, isn't confirmed dead in Episode 4, it's assumed that Austin kills her when he kills the other drag queens who bullied him before his black pill transformation.
It's a sad and sudden ending after a quick cameo, but who knows — maybe Ryan Murphy will welcome Eureka back in a future season.
Watch American Horror Story: Double Feature on Wednesdays at 10 p.m. ET on FX.