A tense confrontation, flirtation involving whipped cream, and a mass departure were just some of the things Season 7, Episode 8 of Bachelor in Paradise captured.
After days of unparalleled drama, Brendan Morais and Pieper James decided that it was time to jet off. Demi Burnett, Tammy Ly, Jessenia Cruz, and Deandra Kanu left too, giving their spots to new Bachelor in Paradise contestants like Blake Monar and Dr. Joe Park (aka Dr. Joe).
Blake Monar walked down the steps of the Hotel Playa Escondida in Season 7, Episode 8 of 'Bachelor in Paradise.'
Blake, a male grooming specialist and cosmetics brand owner based in Phoenix, Ariz., and Dr. Joe, an anesthesiologist from New York, joined the cast of Bachelor in Paradise.
Blake immediately hit it off with Tia Booth, a physical therapist who previously appeared on Season 22 of The Bachelor and Season 5 of Bachelor in Paradise. Meanwhile, Dr. Joe went on a date with Natasha Parker. So, what does the future hold for Blake on Bachelor in Paradise?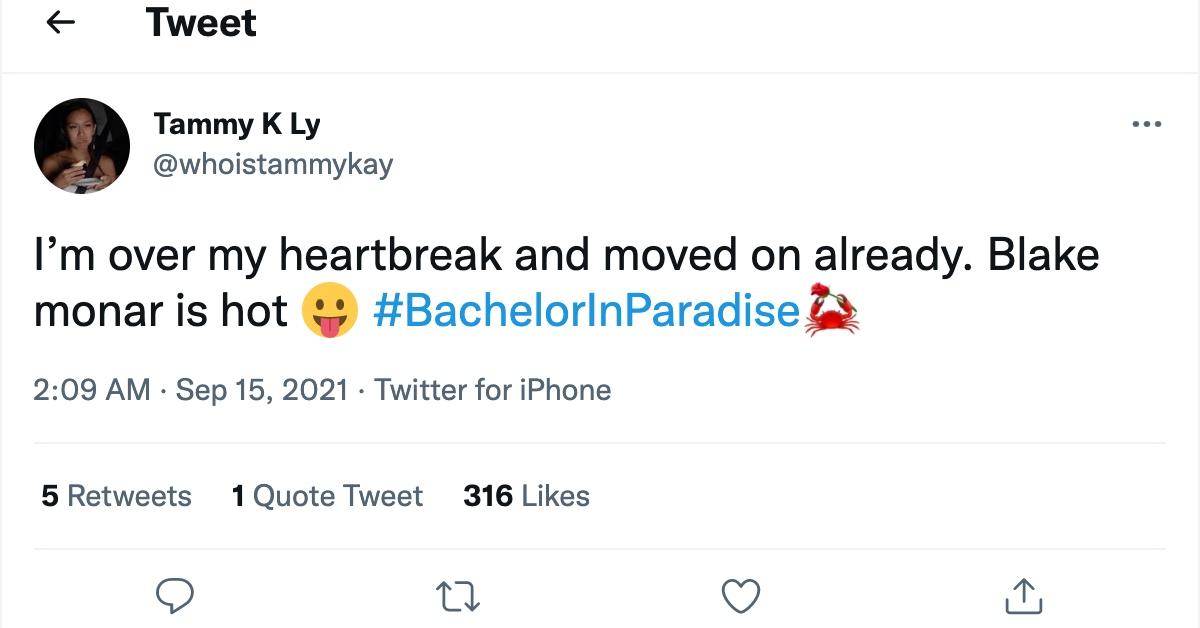 Article continues below advertisement
As the CEO of Statum Style, an all-natural, cruelty-free, non-toxic hair and beauty company, Blake has proven time and time again that he has an expert eye for marketing and a strong business sense.
When it comes to dating, however, he has had mixed experiences. A contestant on Season 16 of The Bachelorette, he didn't have that much luck with stealing Clare Crawley's heart. But the tides will likely turn around soon.
Blake and Tia hit it off immediately on 'Bachelor in Paradise.'
"Should I pack my bags now?" said James Bonsall, Tia's current partner, soon after Blake stepped foot inside the Hotel Playa Escondida in Sayulita, Mexico. "It's like Intro to Heartbreak every week."
Although James gifted Tia a rose only recently, their relationship seems to have been rocked by Blake's arrival. Blake and Tia went on a date in Episode 8, and they got on like a house on fire.
Article continues below advertisement
"Blake is the one person that I wanted to see here. Love tattoos, so hot," Tia explained in a confessional.
After a UTV ride around the jungle, the two sat down to have some champagne and talk things through. As they agreed, they were both attracted to each other, and the date was a real blast.
Article continues below advertisement