[ad_1]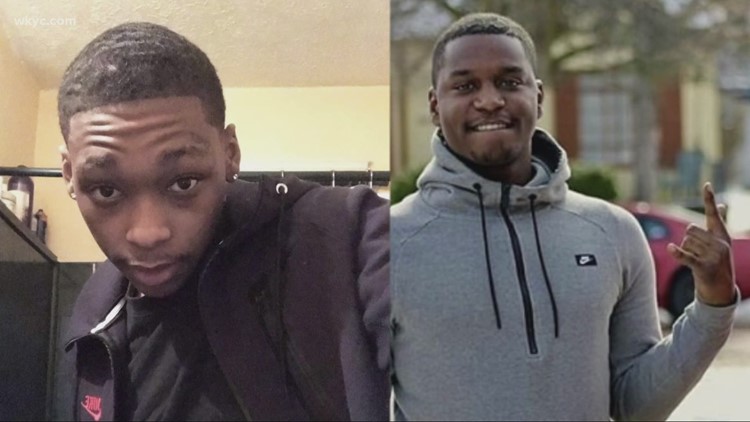 Two families believe the same person could be responsible for taking the lives of their sons.
CLEVELAND — A story about two Cleveland families who have both lost loved ones to gun violence was the focus of a community meeting on the city's east side Wednesday.
The meeting was hosted by Cleveland's Black on Black Crime Inc. The two families said they believe the same person may be responsible for their shared pain.
"I feel like I'm in a dream, like I need to wake up," Latisha Powell, whose son Romell Langford was shot and killed last September, said.
While speaking with community members, Powell was emotional as she spoke about how her son's case could be solved.
"Detectives tell us, people tell us that the streets talk, but they weren't talking in my son's case," she said. "We've been on the other side of injustice, and it's been that way until today."
Powell stood side-by-side with Davell Lawson Sr., whose son Davell Jr. was gunned down in May of 2020.
"I ride around with an obituary on my dashboard, so when I'm riding around, I'm looking at my dashboard, I see my son," the elder Lawson said.
The suspects in both cases are still on the loose. Powell and Lawson met for the first time Wednesday, coming together to share details with one another about why they believe the suspect is the same in both cases.
"We kind of knew that it had to be someone kind of close to my son, close to us," Powell said.
Davell Sr. is the uncle of Lyric Lawson, a 6-year-old girl who was murdered in October 2019. The man who did it pleaded guilty last month and was sentenced to 23 years in prison.
Justice for Lyric and a long-awaited start to his son's case is why Lawson said he still has hope his son's and Powell's son's cases can be solved.
"It took almost two years to get the ball rolling for my son, but I'm grateful," Lawson said. "There won't be no rest for me, nor her. It's an every day process."
When asked about the status of both investigations Wednesday, Cleveland police told 3News in a statement, "The division has a liaison working with family members and partners with frontline services in an effort to address the needs of survivors."
"We want this solved," Powell declared. "We want closure."
The families and Black on Black Crime Inc. say they've tried working with the Councilman Anthony Hairston for Ward 10, where these crimes happened, but haven't been successful in getting answers. 3News reached out to Hairston Wednesday, but has not heard back.
[ad_2]

Source link