[ad_1]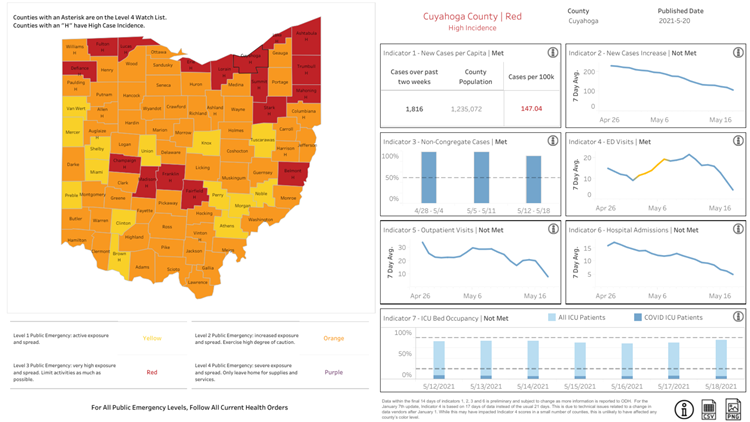 Several communities are lifting their mask mandates, but experts caution the risk is still there.
CLEVELAND — Ohio's COVID-19 advisory map has guided us through the pandemic. Each county colored, with purple meaning the most severe risk of spread. 
As of Thursday, there's still high exposure across the state, with 17 counties (nine in Northeast Ohio) still at Level 3 "red," which indicates "very high exposure and spread" and calls on individuals to "limit activities as much as possible." Summit County is one of those still in the red zone, but there's no longer a mask order in place for most public places. 
"It's probably an alright time to cut back, but you have to understand it's not vaccinated people that are the worry," Summit County Public Health Commissioner Donna Skoda told 3News. "It's the unvaccinated people."
COVID-19 IN OHIO: State reports 1,208 new cases in the last 24 hours
Gov. Mike DeWine lifted the state's mask order for fully vaccinated citizens Monday following guidance from the CDC, and effective June 2, all restrictions will be lifted in the state. But Skoda cautions there is still community spread, and there are still children and others who can't get vaccinated yet.
"The current governor's order says if you are unvaccinated, you should continue to wear a mask, social distance and isolate," she said. "[Here in Summit County], we have over 100 cases per 100,000 persons [during the last two weeks].
However, incentives like the Vax-a-Million lottery seem to be working. Skoda says the time is now – she hope – to move the county out of the red zone. 
"The best thing you can do right now is go get vaccinated," she declared.
Cuyahoga County also remains in the red zone, as it has for most of the pandemic. Cleveland Mayor Frank G. Jackson has extended the city's Proclamation of Civil Emergency — which includes a mask ordinance — through May 31.
RELATED: Dr. Fauci: Reasonable for businesses to keep masks
[ad_2]

Source link