[ad_1]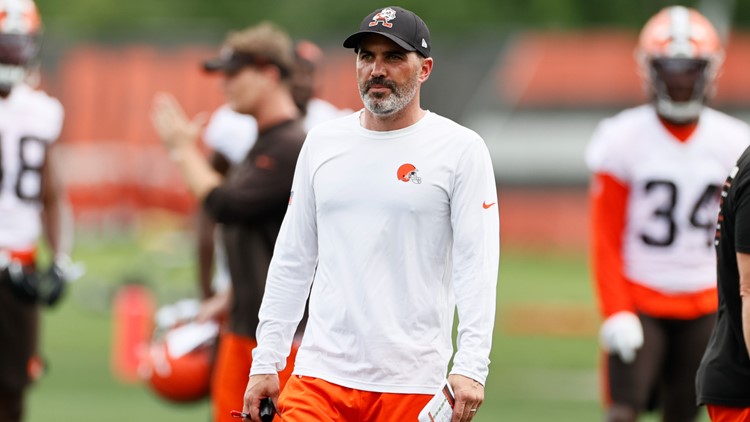 Kevin Stefanski confirmed on Wednesday that more than 51 of the Cleveland Browns' 90 players have been vaccinated for COVID-19.
BEREA, Ohio — Editor's note: the video in the player above is from a previous story.
Cleveland Browns head coach Kevin Stefanski wasn't willing to share exactly how many of his players have been vaccinated for COVID-19. But he did confirm a report from the NFL Network's Aditi Kinkhabwala, which stated that the Browns were among the NFL teams in which 51 of their 90 current players have been vaccinated.
RELATED: More Cleveland Browns news from WKYC
"I'm not going to share the number. We're not 100 percent," Stefanski said on Wednesday following the second of Cleveland's three mandatory minicamp practices this week. "So we're going to make sure that we continue to educate our guys on how this can help themselves, their families. We talked about that it's a competitive advantage.
"We want to make sure that they have a ton of information as they make their choice. But I'm not going to get into the specifics of who's vaccinated and unvaccinated."
To Stefanski's point about the COVID-19 being a competitive advantage for teams, on Wednesday, the NFL and its players' association released new guidelines regarding what vaccinated and unvaccinated players will be permitted to do during the upcoming season. Of note, players who have been vaccinated will not be required to quarantine following high risk exposure to COVID-19.
That's especially noteworthy to the Browns, who suffered a loss to the New York Jets last season in a game in which Cleveland was without its primary wide receivers following a high exposure incident. Additionally, star defensive end Myles Garrett missed multiple games and saw his production decrease after contracting COVID-19, while Stefanski and Pro Bowl Joel Bitonio guard missed the Browns' Wild Card round victory vs. the Pittsburgh Steelers after testing positive for the virus.
"Ohio knows how to get things done. We're not afraid to take on the tough jobs. To beat COVID and get back to the things we missed out on last year, we all need to roll up our sleeves," Stefanski says in the PSA. "To get back to the theater, back to dining out, back to fairs and festivals and back in the stands on Sundays. It's time to roll up your sleeves, Ohio. It's time to get to work."


[ad_2]

Source link