The company made similar caps for all 30 MLB teams, but they were universally panned on social media and are no longer available for purchase.
CLEVELAND — Editor's note: the video in the player above is from a previous story.
How much do you love Cleveland? Enough to wear a pierogi on your hat? If so, New Era has just item for you.
RELATED: More Cleveland Indians coverage from WKYC
On Tuesday, New Era, which serves as the official on-field hat manufacturer for all 30 MLB teams, released a new series of fashion caps dubbed the "Local Market" collection. The hats, which otherwise resemble the teams' traditional headwear, also include patches paying homage to the teams' home markets.
Cleveland's version of the hat includes the Indians' traditional red block 'C' logo on a blue ballcap. And while the front of the hat predictably features a guitar and the 216 area code, several other more unique patches can be found across the sides and back, including a pierogi, the outline of the state of Ohio with the year the Indians were founded (1901), a 1920 Indians World Series patch, a buckeye nut and leaf, as well as the phrase "Cleveland, the Forest City."
PHOTOS: New Era Cleveland Indians 'local market' hat features pierogi, guitar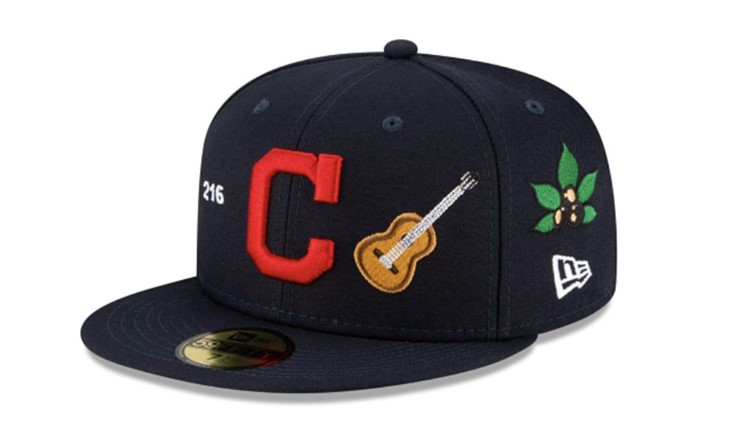 New Era described the "Local Market" hat, which was available for purchase for the price of $39.99 on its website, with the following: "Inspired by their home city, the Cleveland Indians Local Market 59FIFTY Fitted Cap features an embroidered Indians logo at the front panels with city-inspired elements throughout the cap and a team color MLB Batterman logo at the rear. Additional details include a gray undervisor."
However, all of the hats were universally panned on social media. The decals were lampooned as tacky, generic and at times inaccurate. Cincinnati Reds fans had particular beef over a poor rendering of their beloved local chili.
The area code selection was also inconsistent, including several notable omissions — the Tampa Bay Rays' hat didn't include St. Petersburg, where the team's stadium is located, for example; the Pittsburgh Pirates' version had no area codes at all.
Within hours, the caps were removed from the New Era website, and it is unknown if they will be available for purchase in the future. The Associated Press reached out to the company, but did not receive any comment.
RELATED: Jordan Luplow's catch preserves Cleveland Indians' 6-5 win over Detroit Tigers