[ad_1]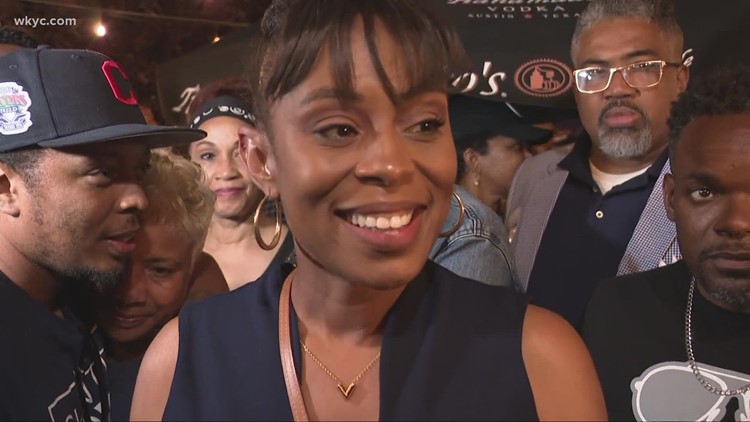 "This came down to results. I have been a legislator for nine consecutive years here in the district, so if all politics is local I am as local as it gets."
CLEVELAND — Just hours after her win in the special Democratic primary election to fill Ohio's 11th Congressional District, Cuyahoga County Councilwoman Shontel Brown appeared on MSNBC's Morning Joe to discuss her win over progressive frontrunner, former State Sen. Nina Turner. 
The 46-year-old county Democratic Party chair said that despite big names like Sen. Bernie Sanders, Rep. Alexandria Ocasio-Cortez, and more supporting and endorsing Turner, this was not a national election, and that the people of Ohio decided. 
"This came down to results. I have been a legislator for nine consecutive years here in the district, so if all politics is local I am as local as it gets," said Brown on the MSNBC show Wednesday morning. 
RELATED: Cuyahoga County Councilwoman Shontel Brown wins Democratic nomination for special election in Ohio's 11th Congressional District
Brown said that it was through those local connections that she saw a "path to victory" and that she and her team did not enter the race with "any expectation other than to win." 
"Long before we got the national attention, I had earned the support of more than 100 local elected officials– people who know what the needs are on the ground," Brown elaborated. 
The Democrat's words inspired Morning Joe's Joe Scarborough, who said "I hope a lot of politicians — young and old — listen to it because national endorsements really, they don't carry you over the finish line." 
The Ohio politician, who is almost certain to clinch the win in the November election against Laverne Gore of the GOP, went on to say she knew upon entering the race that the election would receive national attention, due to Turner's position as the co-chair of Sen. Sanders' 2016 presidential election campaign. 
"When I entered the race, and I knew that the other candidate, who had been campaigning for Senator [Bernie] Sanders, would be entering the race as well, we expected the national attention. She's been on the national stage for the last four and a half years. And so, we were prepared for this."
In terms of why she thinks she came out on top over the more progressive candidate, Brown says she believes people are looking for more action and service, even if that means compromise with the other side. 
RELATED: Businesswoman Laverne Gore wins Republican nomination for Ohio's 11th Congressional District election
"It is trending in that way where the people who understand that this takes compromise and it takes delivering results, not insults. Enough lip service, people want public service and that's what I've been doing for the last nine consecutive years," Brown said Wednesday. "I think that we are seeing that that's what most Americans want. We had four years of an administration that was just polarizing and divisive, and I think more people are focused on making sure we can come out of this pandemic successfully as we talk about the delta variant that is continuing to become a problem, people want to know how they're going to recover. People are concerned about their communities being safe." 
The candidate, who closely aligned herself with President Joe Biden, a moderate Democrat, during the race, discussed President Biden's recent push to get guns off of streets
"That was another subject that came up on the campaign trail. So with the Biden-Harris Administration talking about gun violence being an epidemic, investing those resources, those are the things that people on the ground were concerned about when I was knocking doors and meeting them where they were. These are the topics that I think we need to be hyper-focused on in the future." 
"I started out in the world of politics because I simply wanted to help my neighbors," the 46-year-old said. "So it's always been about people for me. The interesting thing about that story is I found out, like many of our communities, we could use some improvements. So rather than complain, I am a person that believes in being the change that I want to see, so I decided to roll up my sleeve and pound the pavement." 
[ad_2]

Source link